2009年12月31日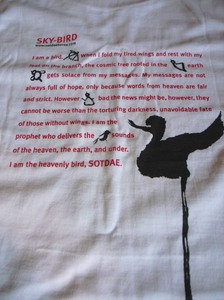 May 2010 be a slow, joyful and peaceful year for all.
A few years ago while walking around the Insadong area of Seoul, I found the the poem below on a T-shirt.
3 weeks ago my friends Yoshioka, owner of Cafe Slow, and Kim Namhee, travel writer, found a real Sotdae in an antique store in Seoul brought it back to Japan. It will be placed at Cafe Slow on the first day of operation in the new year.
SKY-BIRD
I am a bird. When I fold my tired wings and rest with my fest on the branch, the cosmic tree rooted in the earth gets solace from my messages. My messages are not always full of hope, only because words from heaven are fair and strict. However bad the news might be, however, they cannot be worse than the torturing darkness, unavoidable fate of those without wings. I am the prophet who delivers the sounds of the heaven, the earth, and under. I am the heavenly bird, SOTDAE.
(also on the same T-shirt)
SOTDAE is a bird image mounted high on top of a long stick. It is an artifact made of wood. This simple and clear image, however, manifests the deep understanding of the universe of Korean people. SOTDAE symbolizes the faith in heaven by combining the cosmic tree and the sky bird. It is an excellent art that drove the human imagination to its maximum while removing all redundant explanations.